Global Outlook - The 2020's: A transformative decade
Tid:
15. august 2022 - 12:15 - 14:00
|
Åpent for all
Sted: Arendal Kulturhus
The new decade is bringing large-scale and rapid changes as the world transitions to renewable energy and applies new digital technology. Competition between great powers has intensified and a major war is being fought on the European continent. Global Outlook will assess central changes across a range of sectors and explore key implications for business, politics and society. 


Speakers:
• Anniken Huithfeldt, Norwegian Minister of Foreign Affairs
• Svein Tore Holsether, CEO Yara
• Ms. Ayaan Adam, Africa Finance Corporation (AFC)
• Kevin Rudd, Former Prime Minister of Australia, and President of the Asia Society

Moderator: Anita Pratap
No registration is needed. Be part of Arendalsuka and join us at Arendal Kulturhus and listen to national and international speakers talk about the global trends in policy and business. 
NOTE: GLOBAL OUTLOOK WILL START AT 12:15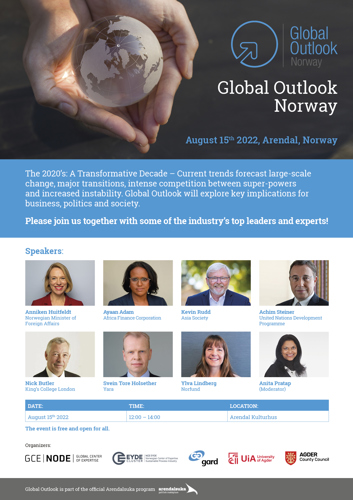 Kontakt
- tonje@eydecluster.com