Arendalsuka: Global Outlook 2021 – Recovery?
Tid:
17. august 2021 - 13:00 - 15:00
|
Åpent for all
Sted: Arendal Kulturhus
Global Outlook 2021 – Recovery?
For the eight year running, Global Outlook Norway gathers eminent speakers to give a global perspective on international affairs and business trends.
The overarching theme of Global Outlook 2021 is 'Recovery?' and it will assess key trends for the coming decade as the world attempts to re-ignite the economy, rebuild political ties and tackle the climate and nature crisis. 
The Global Outlook partners the University of Agder, GCE NODE, Gard and the Eyde Cluster will again invite you to Arendalsuka main stage at Arendal Kulturhus. 
 Moderator:  Anita Pratap, International journalist
Confirmed speakers:
Ine Eriksen Søreide, Norwegian Minister of Foreign Affairs
Nicolai Tangen, CEO Norges Bank Investment Management
Tom Tugendhat,

British Conservative Party politician serving as Chairman of the Foreign Affairs Committee

Jon Gunnar Pedersen, Partner in Arctic Securities
Hilde Merete Aasheim, CEO i Norsk Hydro
Bjørn Otto Sverdrup, Chair of the Executive Committee of OGCI (Oil and Gas Climate Initiative)
Øyvind Eriksen,

President and CEO of Aker ASA
Program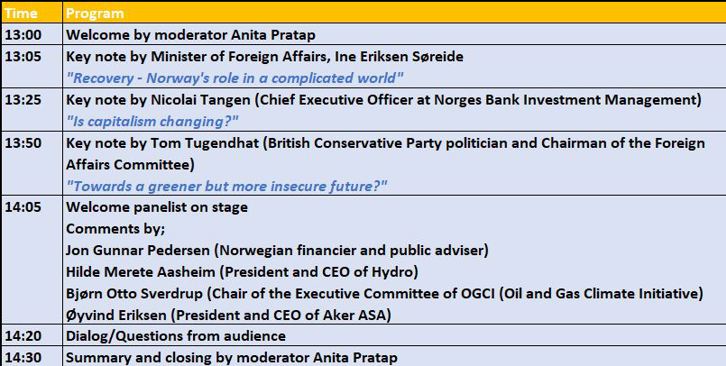 More information on Global Outlook Norway
Please note: The arrangement is open for all, no reservation available, and you are recommended to arrive early. Live stream: https://www.arendalsuka.no/live/hovedscenen/  
Kontakt
- tonje@eydecluster.com